Chicago Homes Styles
*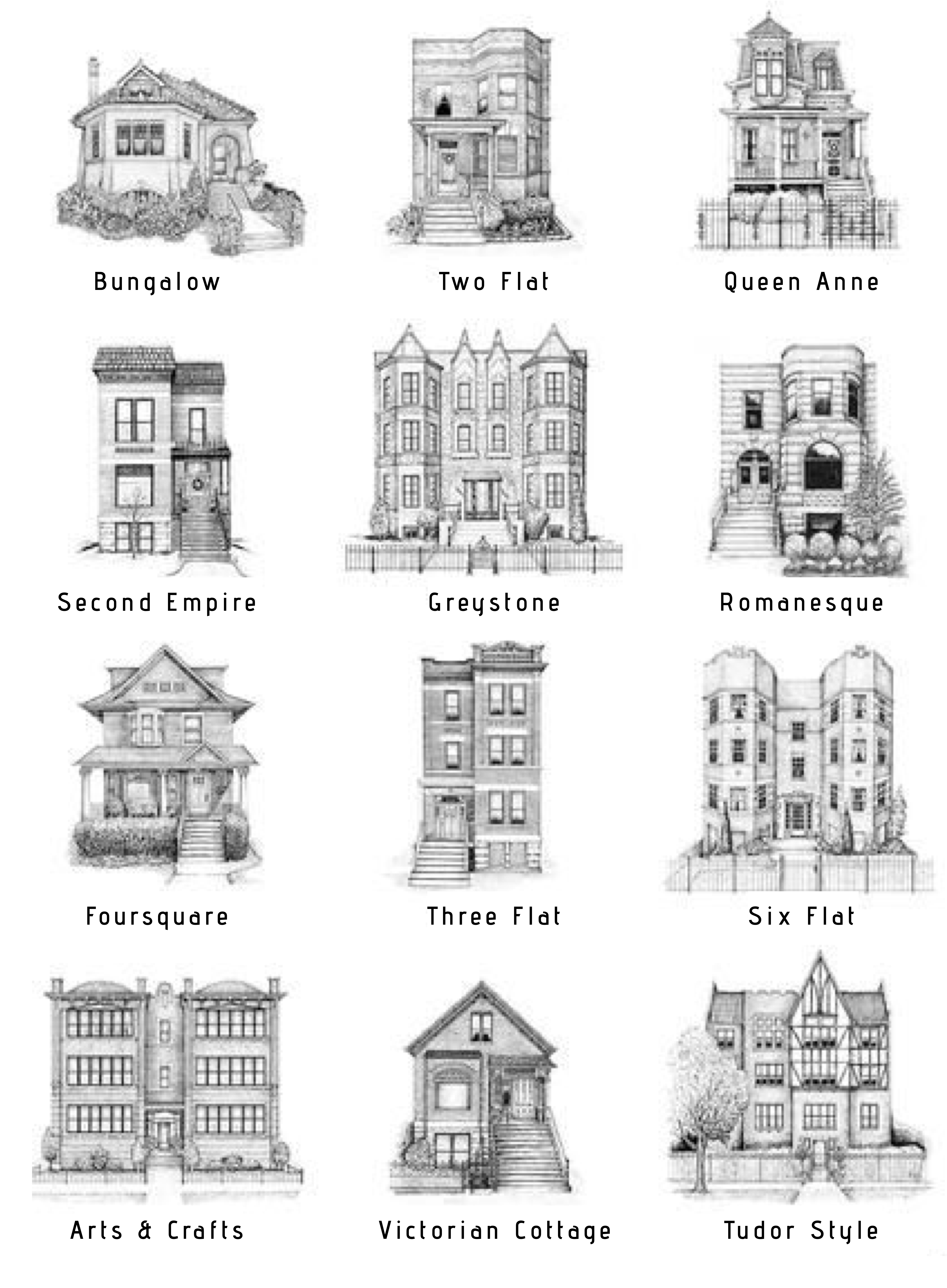 *Please give me a call or text if you have any questions about specific Chicago home styles! Kristin 773-206-7927
The Chicago Bungalow Designed and built between 1910 and 1940
The bungalow was originally built for working-class families
Characterized its 1.5 stories, brick construction, street facing verandas, and full basements.
Commonly built with limestone accents, dormer roof, and concrete entry stairs.
Interior layout has a living room, dining room, and kitchen on one side of the home, with the other side having a series of bedrooms and a bathroom.
The attic has ample storage with many homeowners adding an additional room and bathroom
Many homes featured a back porch, all of which was decorated in Arts and Crafts style woodwork. This truly was a new way life in the 20th century.
Neighborhoods that are part of the Chicago Bungalow Association:
Auburn Gresham, Beverly, Brainerd, Falconer, North Mayfair, Portage Park, Rogers Park Manor, Schorsch Irving Park Gardens, South Park Manor, South Shore, Talman West Ridge, West Chatham, Wrightwood
Learn about the many benefits of being a member of the Chicago Bungalow Association
Check out the beautiful interiors of classic bungalows. Great idea source if you are rehabbing or updating your bungalow.
Kitchens continue to be one of the most important rooms in the house. Bungalow litchen are very unique in that they can be a bit small. This book has great examples of how unique the bungalow kitchen is and many great ideas if you are trying to figure out how to make your bungalow kitchen more spacious.
The Chicago Greystone Limestone facade with limestone from quarries around Bedford Indiana
This multi-flat greystone is to Chicago what the brownstone is to New York.
Constructed between 1890 and 1930's they are found in a variety of styles, the most common Classical Revival.
The Chicago Greystone was built as both single-family homes and multi-family buildings.
The single street-facing grand entrances gave multi-flat greystones the appearance of grand and spacious living
Other neighborhoods where you'll find Chicago Greystones:
Bronzeville, South Shore
The Historic Chicago Greystone provides an essential and unparalleled guide to the maintenance and restoration of these treasured Chicago dwellings.
The Chicago Worker's Cottage The original Chicago home; the worker cottage was the backbone of Chicago
Built as early as the 1830's and into the beginning of the 20th century. These were modest buildings built of wood with later versions; built after the Chicago fire of 1871, were made of brick.
Either 1.5 stories with gabled roofs that face the street.
This housing type was developed to flow with the grid-like subdivisions known in Chicago, as the city grew

around the Chicago River.
Early examples were more in the Greek Revival style, while later versions were more in the Queen Ann style.
Other Chicago neighborhoods where you'll find the Workers Cottage:
Bridgeport, East Beverly, Englewood
Chicago Two Flat You can earn passive income by renting out both units for cash flow.
Stay close to your relatives without sharing a bathroom!

Great alternative for an aging family member or recent college graduate child to live close to relatives.
Want a great way to diversify your assets with a long-term investment in Real Estate?

A two flat can be a great investment, especially if held in the long-term.
Consult a CPA and find out how owning a two flat is a reat way to shield your income against income taxes.
Neighborhoods where you can find Chicago two flats:
Avondale, Bridgeport, Chatham, Humboldt Park, North Lawndale
Great article about the history of the Chicago Two Flat
Queen Anne
Symmetry, contrast, and excess, are hallmarks of the Queen Anne style.

Variety of surface textures.

Elaborate motifs decorated gables and spandrel panels on almost any flat surface.

Gables, turrets, towers and dormers often all on one roof.
Neighborhoods where you can find Queen Anne Homes (Nearby Suburbs included):
Hyde Park, Kenwood, Beverly, Edgewater, Evanston, Naperville, Oak Park, Wheaton